The Retirement 360 Blueprint Process
Step 1. Retirement Design

Discuss and gain clarity on your goals, values, interests and concerns
Review your current financial picture
Understand our process/services

Step 2. Review

Observations & Analysis
— Analysis of portfolio, risk, income, tax, legacy
— Identify opportunity & potential pitfalls
— Recommendations specific to your situation
Do you want our help & partnership?
— New client set-up

Step 3. Implementation

Together, construct and implement details of your dynamic retirement plan
— Income plan
— Investment plan

Step 4. Ongoing Client Experience

Review plan structure
Review client portals
Schedule advanced planning
— Tax plan
— Health care plan
— Estate plan
Dynamic Retirement Planning
Schedule a 15-minute phone call to make sure your situation can benefit from our expertise.
Build the right strategy for you

We can help guide you through all the available options so you can confidently pursue your retirement dreams.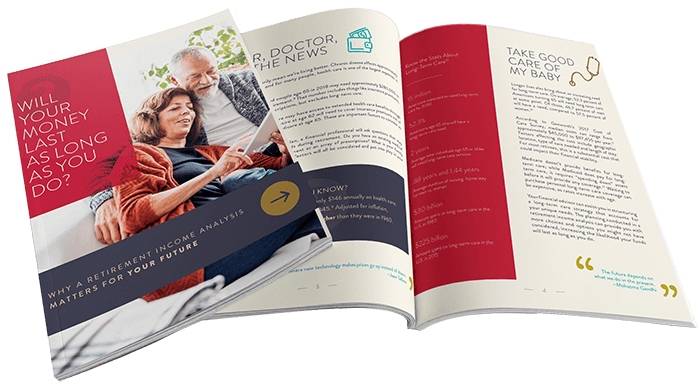 Instant Download
Will Your Money Last as Long as You Do?
Check out this 6-page instant download for the key financial challenges that can make — or break — your income plan in retirement:
Living longer in retirement, including how to potentially minimize taxes
Higher health care expenses, such as managing increased prescription-drug costs
Long-term care, including a strategy to address in-home caregiving expenses
Need more info?
Attend a live workshop

Attend one of our financial workshops to learn more about retirement income strategies, wealth management and more...
Next Event:
March 2

Webinar: 3-Ways to Help De-Risk Retirement & Take Control of Your Financial Future
6:00 pm |
Ready to Take The Next Step?
START HERE to learn more about our services, how our Retirement 360 Blueprint Process works, where to sign-up for our newsletter and other FAQs.
Or, skip the nitty gritty and let's talk!