Understanding WHY, WHAT and WHO of our business:
WHY:

Our goal is to help those we work with to achieve their retirement goals. We want to help you evaluate the value of our services and make an informed decision about hiring our firm.
WHAT:

Using our Dynamic Planning process, we'll examine your current situation and show you how we can potentially help improve your retirement success, create the income you need and work to reduce your tax bill in retirement. It all starts with a complimentary 15-minute phone call to see how we can best help serve you.
WHO:

Diligent savers over age 50 who have accumulated investment and retirement assets of at least $500,000.
Read on to learn more about how we help guide you every step of the way as you prepare for a confident financial future.
The Retirement 360 Blueprint Process
Step 1. Retirement Design

Discuss and gain clarity on your goals, values, interests and concerns
Review your current financial picture
Understand our process/services

Step 2. Review / Mutual Commitment

Observations & Analysis
— Analysis of portfolio, risk, income, tax, legacy
— Identify opportunity & potential pitfalls
— Recommendations specific to your situation
Do you want our help & partnership?
— New client set-up

Step 3. Implementation

Together, construct and implement details of your dynamic retirement plan
— Income plan
— Investment plan

Step 4. Ongoing Client Experience

Review plan structure
Review client portals
Schedule advanced planning
— Tax plan
— Health care plan
— Estate plan
Dynamic Retirement Planning
Neither the firm nor its agents or representatives may give tax or legal advice. Individuals should consult with a qualified professional for guidance before making any purchasing decisions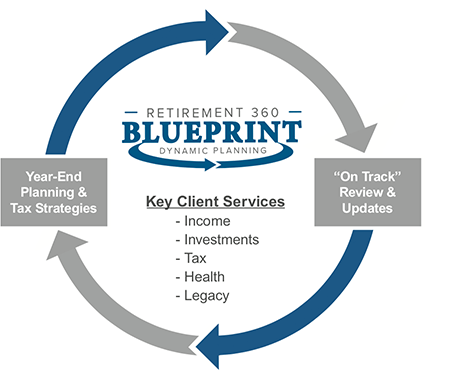 Our Ongoing Commitment to You
Solve. Collaborating a path forward
Maintain. Keeping you on track
Improve. Optimizing your wealth
Protect. Avoiding potential pitfalls
Frequently Asked Questions (FAQs):
Ready to talk?
Book a call with us.
We're looking forward to getting to know you!
Or, if you aren't quite ready to schedule a phone call, that's OK! Please do one — or all — of the following to stay in touch: